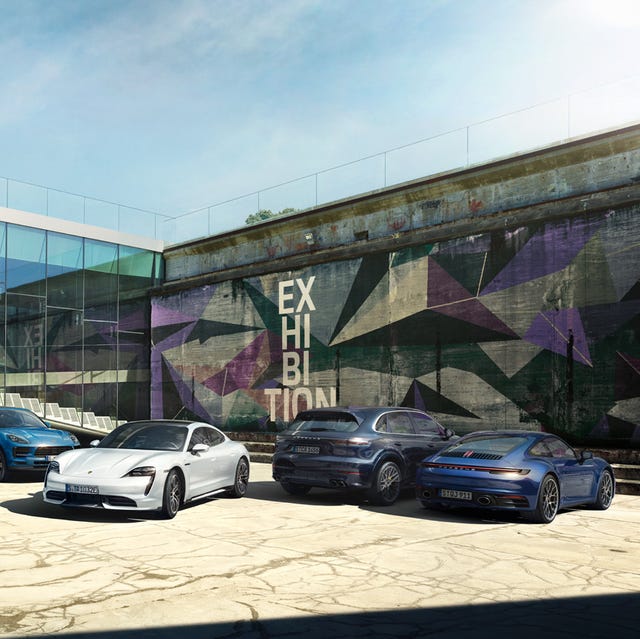 Porsche
Buying or leasing a car stinks. It's confusing and cumbersome. You have to show up to a dealer in person and fill out a ton of inscrutable paperwork while a salesman tries to upsell you on maintenance packages; you have to pay a lot of money upfront and commit for the long haul. And that's before you tack on maintenance, dealing with a third-party insurance provider and keeping your vehicle registration up to date.
The natural question in our digital age: what if there was just an app for that? And it's a question that some auto manufacturers, rental car companies and startups have tried to answer — with varying degrees of success and commitment. (We encountered multiple dead websites while researching this post.
Why You Should Consider a Car Subscription Service
Car subscription services offer two primary benefits to customers: ease and flexibility. The process is streamlined; you subscribe to your vehicle by phone with a few button taps, while someone else handles all the nitty-gritty details and insurance. Many of the services will deliver the car to your house.
Subscriptions also offer some degree of flexibility, compared to a traditional car lease. The term will be much less than 36 months. And you may be able to swap within a fleet of vehicles: an electric Taycan for the daily commute, a Cayman for the weekend and a Cayenne for that family road trip you have coming up.
Why Car Subscriptions Aren't Quite Working Yet
Why doesn't everyone convert to car subscription services? In most places, they don't have the option. Few services have mastered a fundamental scalability challenge. Flexibility may be a primary appeal for buyers. But the more options to swap cars you add the harder it gets to expand the service beyond a small network of dealers in an individual city.
Another critical problem is cost. Current car subscription services are much more expensive than leasing an equivalent car, and the ease and flexibility may not be worth the additional premium.
Adoption has been sporadic and slow-going, and many car companies have given up on it. Brands like Cadillac and BMW have suspended/terminated their programs after trials in individual cities.
What Car Subscription Programs are available in the U.S.?
Here's a look at the major car subscription options available right now
Advertisement – Continue Reading Below
Lexus Complete
Lexus Complete is an all-inclusive subscription plan with a minimum one-month commitment. Buyers can swap vehicles monthly. The Premier plan offers access to the IS, ES, UX, NX, RX. A cheaper Agile plan offers just the IS and UX.
Availability: Select cities
Starting Price: $795 per month (plus $495 activation fee)
Nissan Switch
Nissan Switch is an all-inclusive service. The Select plan offers access to the Altima, Rogue, Pathfinder and Frontier. The Premium plan includes a broader selection of cars and the GT-R for an additional $100 per day. Buyers have unlimited switches.
Availability: Houston, TX
Starting Price: $699 per month (plus $495 activation fee)
Porsche Drive – Subscription
Porsche Drive is an all-inclusive plan covering the vehicle, maintenance and insurance. Porsche offers 1 or 3-month single-vehicle subscriptions. Customers can also opt for two levels of multi-vehicle subscription plans (you need the higher $3,100 Accelerate tier to get the Taycan and 911). Multi-vehicle subscription plan holders can switch vehicles as often as they wish.
Availability: Select cities
Starting Price: $1,600 per month
Care by Volvo
Care by Volvo offers a flexible car lease plan covering the vehicle, maintenance and insurance. Buyers can subscribe online and swap for a new vehicle every four months. Buyers can cancel in most states anytime after the fifth payment.
Availability: National
Starting Price: $700 per month
LEARN MORE


These Are the 16 Best Cars to Buy in 2021
Kelley Blue Book has revealed the best cars to buy awards for 2021. The results may surprise you.
LEARN MORE
Hertz My Car
Hertz My Car is an all-inclusive plan. Buyers can opt for Tier 1 (Economy), Tier 2 (Small SUVs/Trucks and Full-size sedans) and Tier 3 (SUVs, Large Trucks, Luxury Sedans) plans. Subscribers can exchange vehicles up to twice per month with no charge.
Availability: National
Starting Price: $599 per month ($250 enrollment fee)
LEARN MORE
Subscribe with Enterprise
Subscribe with Enterprise is an all-inclusive pilot program. The fee is monthly, covering up to four vehicle switches and 3,000 miles per month. The "virtual garage" includes sedans (full-size and premium), SUVs (compact, intermediate and standard) and pickups (standard, full-size).

Availability: Minnesota, Missouri, Nevada
Starting Price: $1,499 (+$250 enrollment fee)
LEARN MORE
Sixt+
Sixt is a European-based rental car agency. They offer a Sixt+ subscription plan. Buyers can swap vehicles once per month. Subscriptions can be as short as one month. You can only pick a vehicle category rather than a specific vehicle.
Availability: Select states
Starting Price: $629 per month

LEARN MORE
Steer
Steer is a green alternative for a car subscription plan offering EVs and hybrids. It's all-inclusive with no mileage limits. There are three tiers. The base "Practical Advantage" plan gets you access to Toyota hybrids and economy EVs like the Chevy Bolt and Nissan Leaf. The "Preferred 3" plans offers the long range Tesla Model 3. And the $1,799 "Premier Performance" package includes a range of luxury EVs like the Jaguar I-Pace, Audi E-Tron, Tesla Model S as well as high-end PHEVs like the BMW X5 and Porsche Cayenne.
Availability: Toronto, Washington D.C.
Starting Price: $999 ($750 activation fee)
LMP Subscriptions
LMP Motors offers a subscription plan through its network of dealerships in multiple states. The company offers reasonable prices and monthly, six-month, 12-month and 24-month subscription plans. Though, customers are responsible for insuring cars themselves.
Availability: Connecticut, Florida, New York, Tennessee and West Virginia.
Starting Price: $301 per month
These 5 Brands Sell the Most Reliable New Cars
Consumer Reports has published its annual new car reliability rankings. Here are the brands that topped the list.
LEARN MORE
This content is created and maintained by a third party, and imported onto this page to help users provide their email addresses. You may be able to find more information about this and similar content at piano.io
Advertisement – Continue Reading Below